Good decisions are based on good information. An important aim of the KHH is to help bring research findings through to management outcomes, and to provide avenues for koala carers and managers to inform research priorities.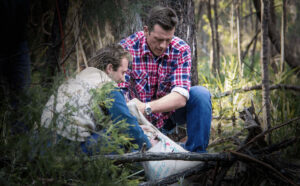 The support we can provide in laboratory diagnostics, disease ecology, genetics, pathology and veterinary medicine has allowed us to introduce health and genetics studies to a range of koala ecology projects, providing an evidence base for koala management decisions.
Our collaboration across koala management projects from Gunnedah to the Blue Mtns, Campbelltown, Southern Highlands and the far South Coast of NSW give us a broad perspective of the issues facing koalas and their management. This, and our long history in koala health, places us well to advise on study design and government policy.
With the support of the NSW Government we recently produced a set of protocols for collection of non-invasive, opportunistic or capture-based research samples and data to facilitate koala health research.
In the Southern Highlands we provide field support in anaesthesia and sample collection as well as expertise in diagnostics, disease ecology and genetics to a collaboration with the NSW Office of Environment and Heritage and the Wingecarribee Shire Council.
The aim of the project is to determine the extent and health of Southern Highlands koala populations in order to develop a long term conservation plan.
For the small, low density but genetically valuable population on the Far South Coast, where the koalas are rarely seen, we used more challenging scat based methods to determine disease status, genetic diversity and sex ratios. The health information we obtained was important to understanding the viability of these populations, their ability to recover, and the areas of priority habitat. Information on health and genetics are vital to progressing management strategies such as translocation of corridor construction, especially where disease-free or genetically valuable populations are involved.
We are keen to work with stakeholders to conduct and facilitate any research with direct application to the well being of koalas as individuals and as populations. We have a long history of koala research in the Faculty and offer a range of research and training opportunities for undergraduate and higher degree research students.