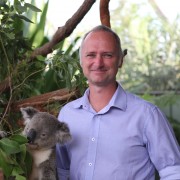 ASSOC PROFESSOR DAMIEN HIGGINS (KHH LEAD)
Damien's main area of research interest is the ecology and pathology of wildlife diseases, particularly the impact of human activities on the host-pathogen relationship of diseases in fragmented populations of two threatened species – the koala and the Australian sealion. He has a strong interest in fostering multidisciplinary and applied wildlife health research through communication and stakeholder engagement. His teaching reflects his diverse background and covers general pathology, laboratory disease investigation, wildlife disease ecology and management, and threatened species management.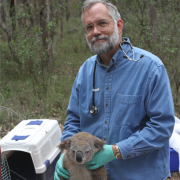 David is Associate Professor in Exotic Animal Medicine and Surgery and Wildlife Health and Conservation. He joined the University of Sydney as the Director of the Wildlife Health and Conservation Centre and the Avian Reptile and Exotic Pet Hospital in 2006 and has taught exotic pet and wildlife medicine and husbandry, and conservation biology since 1993. He is coordinator for the Masters of Wildlife Health and Population Management program. David's research interests include diseases of wildlife and exotic animals, as well as wildlife ecology and conservation. His current koala research involves habitat use, genetic diversity and the impact of disease on low density koala populations in the lower Blue Mountains, Campbelltown, and the Wollondilly and Wingecarribee Shires and also far southeastern New South Wales.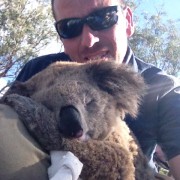 PROFESSOR MARK KROCKENBERGER
Mark Krockenberger is Associate Professor of Veterinary Pathology at the University of Sydney who has been working with koalas for the past 20 years. He is a Fellow of the Australian and New Zealand College of Veterinary Scientists in Veterinary Anatomical Pathology and a registered specialist veterinary pathologist and he is Associate Head of Clinical Services in the Sydney School of Veterinary Science. Mark is an active researcher in koala diseases, particularly cryptococcosis, and assists many groups and vets managing this disease in captive or wild animals. Currently, he is involved in a large and exciting research project examining the intersection between ecology and disease in the Gunnedah region.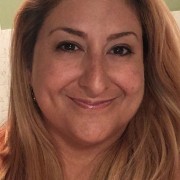 DR ANDREA CASTERIANO (TECHNICAL OFFICER)
Andrea graduated with a PhD in microbiology from the University of Sydney in 2014, joining the Koala Health Hub later that year. She oversees the operational aspects of the KHH's diagnostic services, including the real-time PCR tests for Chlamydia and maintaining our koala DNA database. Andrea is also involved in client-based consultancy work and offers technical advice, support and supervision to undergraduate and post-graduate students undergoing training in koala health research in the Hub.

Caroline graduated in Veterinary Medicine at the University of Vienna in 2012 and has followed her passion for wildlife to Vancouver Aquarium, Abu Dhabi Falcon Hospital and also the Avian Reptile and Exotic Pet Hospital at the University of Sydney. She joined the Koala Infectious Diseases Research Group in 2013 and since completing her PhD, has been a great contributor to the KHH and koala research, leading training of students, carers and koala managers in sample collection and necropsy and more recently supporting field studies.
DR VALENTINA MELLA, POSTDOCTORAL RESEARCH FELLOW
Valentina is a Research Fellow in the Sydney School of Veterinary Science at the University of Sydney. Valentina's research aims to implement practical solutions to achieve effective long‐term conservation management actions to help koalas. She currently leads a project examining mortality of koalas in NSW in relation to heat-stress. The final aim of the study is to develop a forecasting tool to predict heat stress risk for koalas based on weather forecast and historical clinical records of koala admission into care. In the past, Valentina has investigated the behaviour and health of koalas in the Liverpool Plains, NSW, in connection with water availability in the environment. The study provided the first practical management solution to help wild koalas through climate change driven heatwaves and droughts. At present, Valentina is also investigating behavioural and health predictors of koala survival following rehabilitation and release back into the wild by evaluating current triage criteria for koalas in care.
---
---
<!- View not found ->
---
Previous Advisory Committee and KHH team

---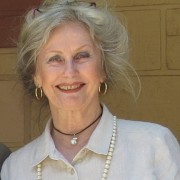 LORRAINE VASS, FRIENDS OF THE KOALA
Lorraine was the Koala Care Community representative on the Koala Health Hub Advisory Committee during 2015. She served 15 terms as President of Friends of the Koala in the Northern Rivers region of NSW. She has been a great champion for koalas and Friends of the Koala and is in constant pursuit of ways to position the group to be a fighting force for koalas and their conservation.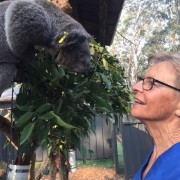 CHEYNE FLANAGAN, KOALA PRESERVATION SOCIETY OF AUSTRALIA
Following decades of voluntary work in wildlife rehabilitation while working with cattle sheep and horses, Cheyne moved to full time wildlife work in the 90's and has been employed by the Port Macquarie Koala Hospital for the last 18 years as the Clinical Director. Over that time Cheyne has provided us vital insights into koala care and rehabilitation, both as a collaborator in koala care projects and, more recently, as a member of our advisory committee.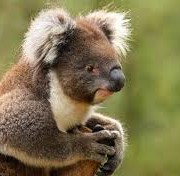 Vickii has been a member of the NSW Wildlife Information, Rescue and Education Service (WIRES) since 1987 and is currently the Koala Coordinator for the WIRES Large Mammal Team where she enjoys the opportunity to exchange information with carers, wildlife care groups and researchers. She completed koala care training with WIRES, Native Animal Trust, Friends of the Koala in Lismore, and more recently at Port Macquarie Koala Hospital. Vickii has had a longstanding career with NSW National Parks and Wildlife Service in Blue Mountains Region for 24 years and has also been involved in a number of bushcare groups, including Yellomundee Aboriginal Bush Care Group, Hawkesbury Rainforest Network, Meroo Reserve Bush Care, and Hawkesbury Environment Network.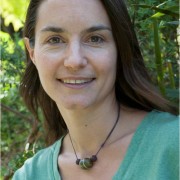 DR TIGGY GRILLO, WILDLIFE HEALTH AUSTRALIA
Tiggy has been a member of the Koala Health Hub Advisory Committee since the inception of the Hub in 2014 and has been working for Wildlife Health Australia since May 2009. Tiggy obtained her veterinary degree in Glasgow, Scotland in 1999. She returned to Glasgow to complete a PhD in molecular parasitology in 2006.  In 2006, Tiggy moved to Australia to work at the then new School of Animal & Veterinary Sciences where she lectured in parasitology and  communication skills into the new veterinary course at Charles Sturt University in Wagga Wagga, NSW. Previously, Tiggy has been involved in population field surveys in the U.S.A. on raptors, compiling a sea turtle rehabilitation manual for the U.K., and reviewing sewage effects of harbour porpoise in Scotland.  In 2016, Tiggy was the recipient of the Wildlife Diseases Association Australasian Section Barry Munday Award for her outstanding services to wildlife health in Australia.  Tiggy is Australia's World Organisation for Animal Health (OIE) Focal Point for Wildlife Health.